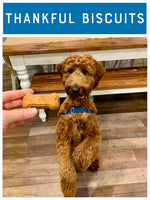 This Fall recipe features pumpkin! Pumpkin is a staple of Fall, dogs love them, it's nutritious and helps aid in digestion.
By Chef Charlie
Time: 1 hour
Serving Size: 1 biscuit
Nutritional Info:
Pumpkin contains an excellent source of fiber and beta-carotene. Pumpkin is known to help aid digestion in dogs and can help soothe an upset stomach. 
What you'll need
1 silicone dog biscuit trays

Measuring cup 

Measuring spoons

Medium mixing bowl
Ingredients
2 eggs

½ cup canned pumpkin

½ teaspoon salt 

2 tablespoons dry milk

2 ½ cups wheat flour

1- 2 tablespoon coconut oil
Instructions
1. Preheat the oven to 350F.
2. Add pumpkin, eggs, salt, dry milk, flour and coconut oil to bowl.
3. Mix with your hands until dough is combined.
4. Fill each mold with dough.
5. Bake for 40 minutes.
6. Remove biscuits from molds.
7. Enjoy!
We hope your pup enjoys this healthy Fall treat! Send us a pic of your pup enjoying this recipe, tell us the tricks they performed to get their biscuit or just share this recipe with a friend!