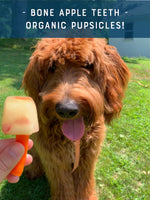 This all organic recipe features apples, carrots, and bone broth. It's nutritious and delicious!
Prepared today by Chef Charlie
Time: 15 mins (plus freeze time)
Serving Size: 1 Pupscicle
Makes: 2 Ice trays 
Nutritional Info:
Bone broth contains an excellent source of proteins that can help with joint pain and helps to ease a dog's upset stomach. Apples and carrots are a good source of vitamins A and C. They are both well-known foods that aid in dog dental health. As your dog chews the apples and carrots they will help scrape debri and food off your dog's teeth.
 Ingredients
2 Cups organic bone broth

4-5 Organic carrots

1 Organic apple
What You'll Need
2 Ice cube trays

Measuring cup

Knife

Cutting board

Peeler
Instructions
1. Wash and dice the apple, leaving any seeds and core out.
2. 
Wash, peel and cut the carrots into lunch sticks (~three inches long and cut into quarter inch pieces).
3. Place a carrot stick into the bottom of the ice tray, while holding the carrot upright fill enough apple dices into the cube to fill halfway and to prop up the carrot. Continue until all cubes are filled.
4. 
Measure out 2 cups of bone broth and fill each cube.
5. Carefully put them in the freezer. They will need at least 1-2 hours.
We hope your pup enjoys this healthy Summer treat! Send us a pic of your pup enjoying this recipe, tell us the tricks they performed to get their pupsicle or just share this recipe with a friend!